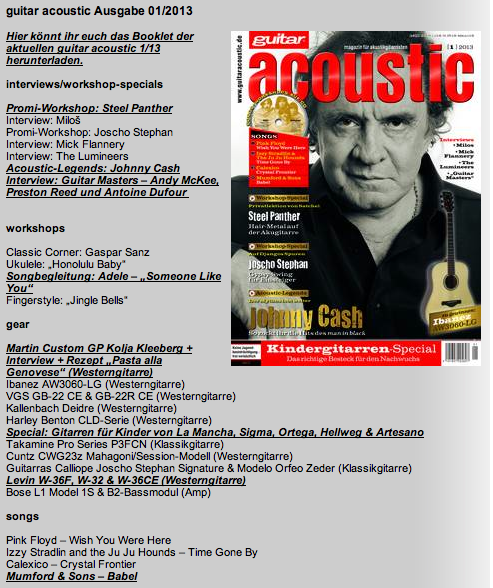 in der Ausgabe der guitar acoustic (1/13) gibt es eine hervorragende Besprechung zweier Modelle (Joscho Stephan Signature Modell + Modelo Orfeo - Zeder) unsrer Gitarrenmarke "Guitarras Calliope" und einen interessanten Promi-Workshop mit Joscho Stephan. Es gibt ein Ansichtsexemplar bei uns im Laden. 
There is a brilliant review of two models (Joscho Stephan Signature Model and Modelo Orfeo - Cedar) of our guitar brand "Guitarras Calliope" in the edition (1/13) of "guitar acoustic".
Müller-Herrou, Jens: Laut und deutlich, in: guitar acoustic 1/13 (2013), pp.102–104
"…Gitarren dieser Größe erfinden das Rad nicht neu, bieten aber einen ausgesprochen voluminösen, charaktervollen Klang, der nicht nur Lautstärke als Qualität hat. Es handelt sich um Instrumente der Oberklasse…Die Bandbreite der Instrumente ist ebenso beeindruckend wir ihre stilistische Vielfalt…"